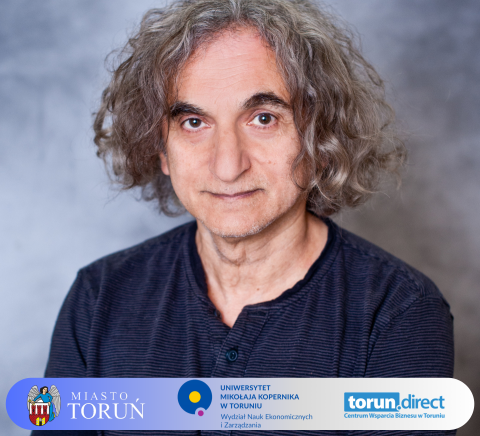 Rektor Uniwersytetu Mikołaja Kopernika,  Dziekan Wydziału Nauk Ekonomicznych i Zarządzania UMK i  Dyrektor Centrum Wsparcia Biznesu zapraszają na wykład profesora  Odeda Galora. Wybitny ekonomista Brown University, jest autorem jednolitej teorii wzrostu gospodarczego uwzględniającej historię migracji gatunku ludzkiego  od wyjścia z Afryki.
Profesor Oded Galor z Uniwesytetu Browna, siódmej najstarszej uczelni w USA, zlokalizowanej w Providence, Rhode Island, wygłosi Wykład Rektorski w Toruniu 17 października 2019 r. o godz. 11.30. Wykład odbędzie się w historycznym budynku Dworu Artusa w samym sercu toruńskiej starówki. Przedmiotem wykładu wygłoszonego w języku angielskim będą Biogeograficzne korzenie bogactwa narodów (The Biogeographical Roots of the Wealth of Nations).  Wstęp na wydarzenie jest wolny. 
Zainteresowania naukowe Profesora Galora koncentrują się wokół tematyki wzrostu i rozwoju gospodarczego, związków ekonomii z rozwojem populacji, demografii, ekonomii ewolucyjnej oraz geografii społeczno-ekonomicznej. Jest autorem Jednolitej teorii wzrostu gospodarczego (2011) oraz redaktorem naczelnym Journal of  Economic Growth, czasopisma znajdującego się w TOP10 najlepszych czasopism ekonomicznych na świecie. Wydarzeniem towarzyszącym wykładowi będzie koncert fortepianowy w wykonaniu profesora Tadeusza Trzaskalika z Uniwersytetu Ekonomicznego w Katowicach.
Rector's Lecture by Professor Oded Galor
A distinguished economist - Professor Oded Galor from Brown University, the seventh oldest University in the USA, located in Providence, Rhode Island, will present Rector's Lecture in Toruń, on October 17th, 2019 at 11.30 a.m. The lecture will be held in the Artus Court – a historical building in the heart of the Old Town. The title of his interdisciplinary lecture is The Biogeographical  Roots of the Wealth of Nations. Professor Oded Galor's interests cover such issues as the economic growth and development, economic inequalities, demography, evolutionary economics and socio-economic geography. He is the author of Unified Growth Theory (2011) and the Editor-in-Chief of the Journal of Economic Growth, which is included in the TOP10 list of the economic journals in the world. The accompanying event will be a piano concert performed by Professor Tadeusz Trzaskalik from the University of Economics in Katowice.